What does smart casual mean, anyway?
We've cracked the business casual dress code. Discover a capsule wardrobe of new arrivals to see you through every work situation — for this strange summer and beyond.
Business casual done better
From Zoom calls to socially distanced meetings, we're all trying to navigate new ways of working right now – but you can't blame everything on the pandemic. Even before Covid-19 struck, business casual was a notoriously difficult notion to pin down. How do you strike the right balance between dressing appropriately for work and letting your own personality shine through? 
It's something that we think about a lot here at Maakola; in fact, it's pretty much the reason the brand was founded in the first place. Here are our top three tips for smart casual dressing.
Easy-care fabric
We're busy; you're busy. That's why we work with Vlisco African Prints made with premium cotton. Our clothing behaves itself in the washing machine, saving you endless trips to the dry cleaner.
Vivid print
All too often, capsule work wardrobes come in an unrelenting palette of boring neutrals. At Maakola, we take the opposite approach, working with joyful prints that command attention to deliver a confidence boost whenever you need it.
Versatile silhouettes
Building a smart casual wardrobe is all about pieces that do double duty. So while there's nothing more chic than a printed co-ord, we also love splitting up a matching two piece and wearing the top with a pair of jeans, or narrow printed pants with a simple white tee.
Discover the capsule
With these principles in mind, we've put together our key business casual pieces for summer 2020.
The pantsuit as armour
With a structured, form-fitting silhouette, this is clothing that feels like modern-day armour. The grey color palette is perfect for any business situation, but the red accents within the print reveal your inner confidence.
Shop the Nemesis Armour high neck top
Shop the Nemesis Armour pants
The summer co-ord
Day-to-night made easy in this bird print peplum top and matching pants. Wear these statement pieces together for maximum impact, or pair them with your favorite separates.
Shop the Melody Millicent Danquah peplum top
Shop the Melody Millicent Danquah pants
The multitasking coat dress
In a bright peacock print, this belted coat dress does it all. Button it up and wear it as a dress, or leave it open over a tee and narrow pants for a chic, summery (and fun) take on the work jacket.
Shop the Hannah Cudjoe belted coat dress
The confident pencil dress
Biceps at the ready: the sleeveless pencil dress is a power-dressing classic. We've given it a vibrant spin with a Vlisco African Print that celebrates the beauty of nature.
Shop the Gaia pencil dress
Continue reading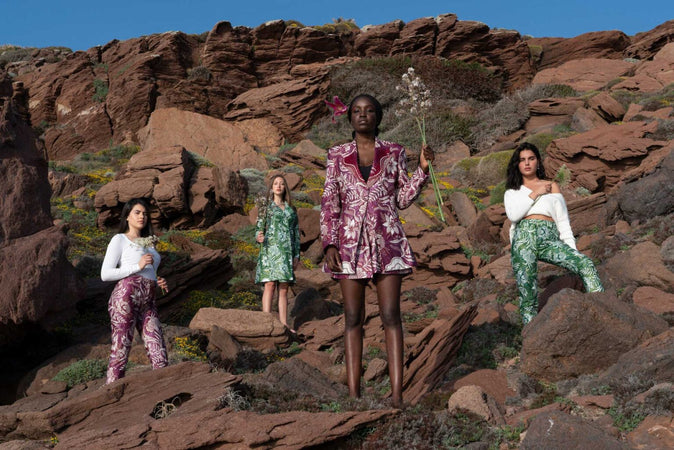 Find us online